Acoustic lighting bring a whole new dimension to the world of sound-absorbing products that are otherwise usually regarded as being something to be added to an interior to solve a noise problem. Why not create lamps where the sound dampening function is an integral element of the design and not something that is merely "bolted on", disrupting the shape of the object or distorting the experience of the space in which they are located? We asked ourselves that very question a couple of years ago when we produced the first lamp with a sound absorbing function. Take a look at our much-loved range of acoustic lightings!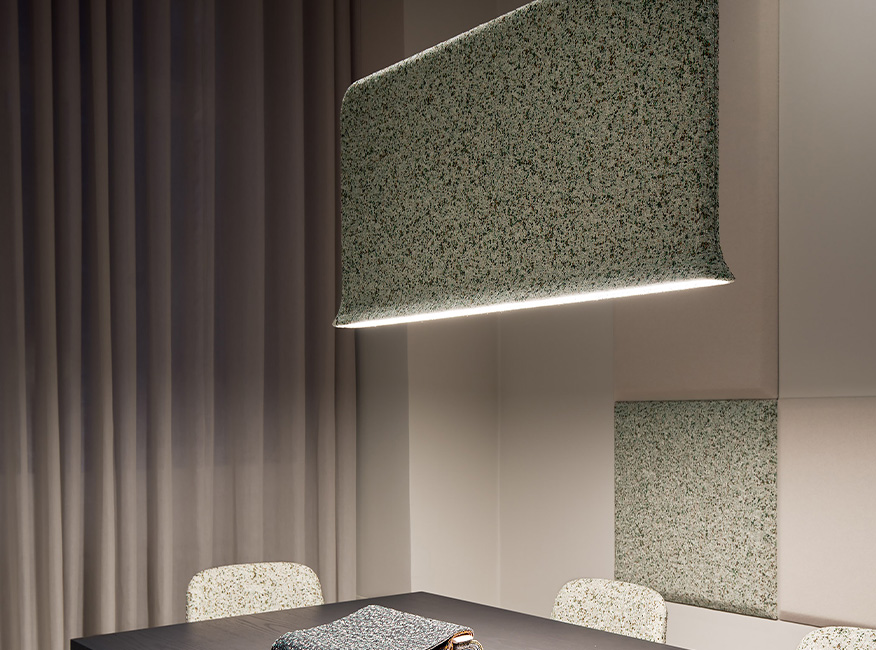 Trumpet
Design: Stone Designs
The forerunner to the Trumpet acoustic lamp was designed specifically for a very loud dining room at a ski centre in Andorra, which could, and frequently did, accommodate 400 young people, all clumping around in heavy ski boots. Trumpet is surprisingly thin, giving the product an elegant appearance. At the same time, it is also a product that makes a significant difference to the soundscape as it contains a large, soft sound absorbing filler material that absorbs unpleasant reflected sounds. The acoustic lighting is hung from the ceiling by a wire and features a directional working light. Trumpet is available  as uplight, downlight, and combination versions. Customise your lamp by choosing from a wide variety of fabrics and colours!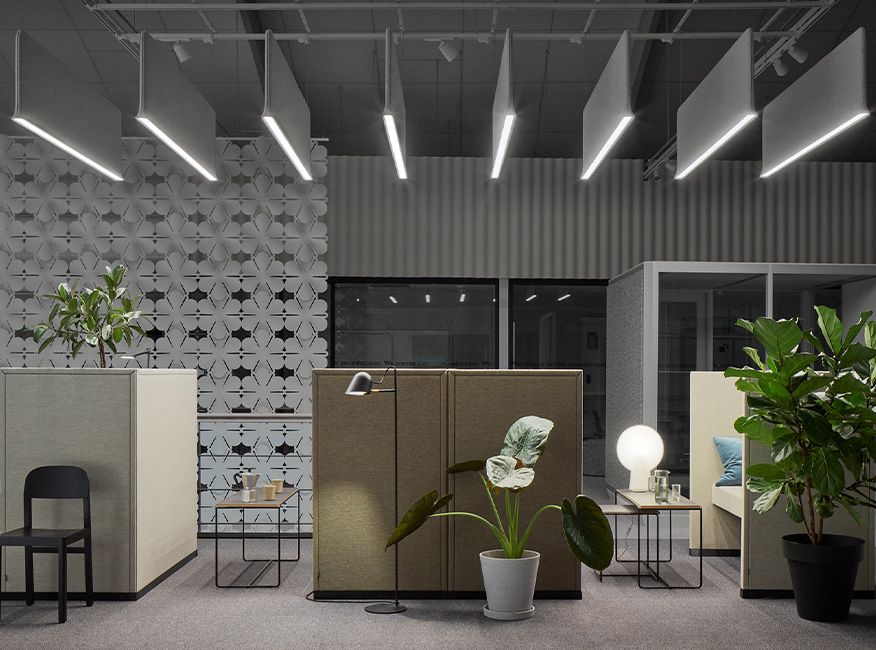 Trumpet is the perfect choice for hanging in series as sound-absorbing "baffles" in premises with high ceilings. These baffles not only stop sound waves, they also act as a functional light source!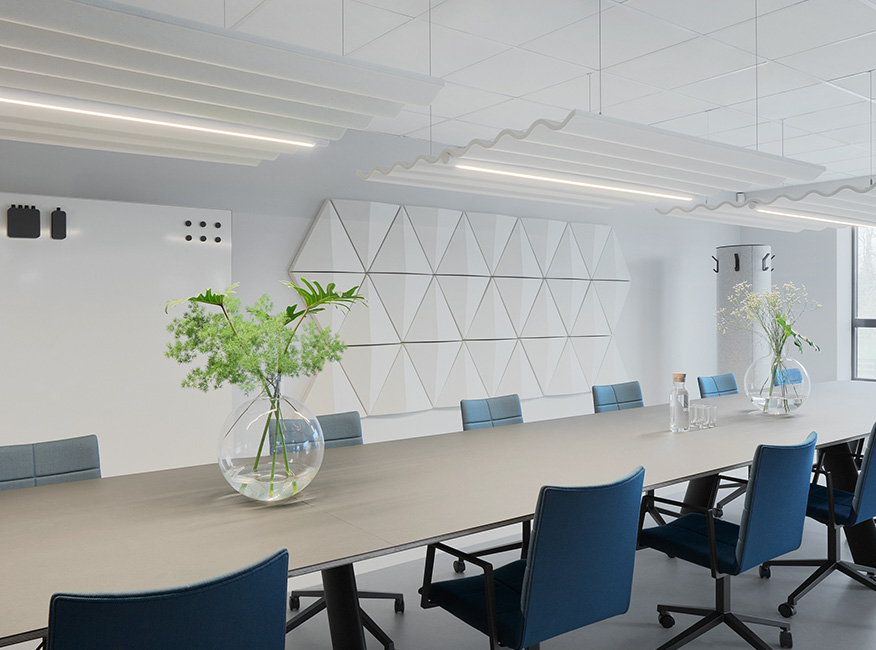 Scala
Design: Anya Sebton

"The inspiration for the design came from Icelandic houses, the roofs and façades of which are often covered with corrugated iron. This gave me the idea of bringing that form into the internal space," says Trumpet designer Anya.
Scala Ceiling creates the feeling of having a cosy, sound-absorbing ceiling over the table where you sit. The sound waves generated, e.g. when people are talking, are prevented from rising up to the ceiling as Scala's soft core absorbs unpleasant reflected sound. It is the perfect choice for hanging above conference tables, desk clusters, or tables in a café or restaurant environment!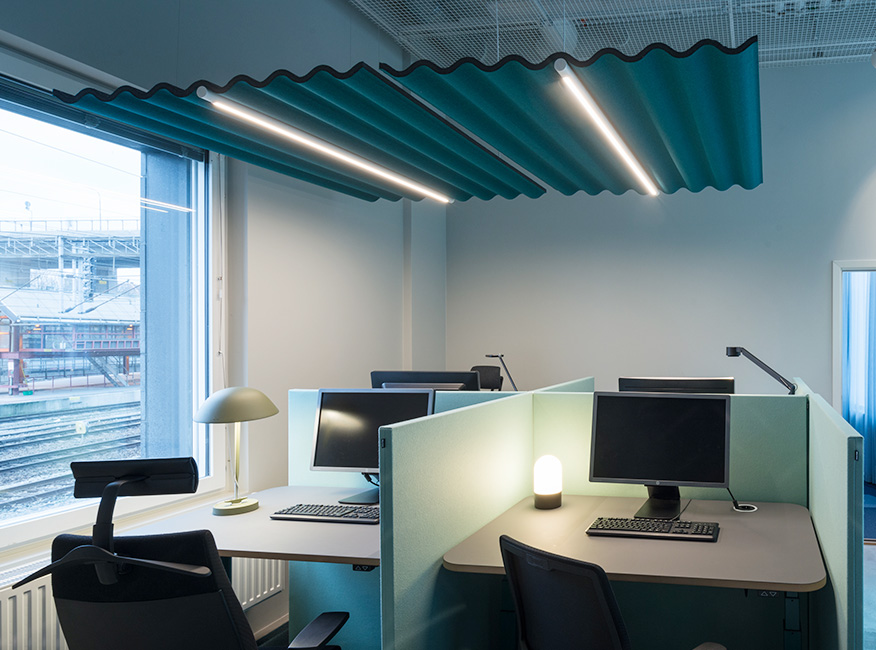 Depending on your choice of fabric, the product simply melts into the background of your interior.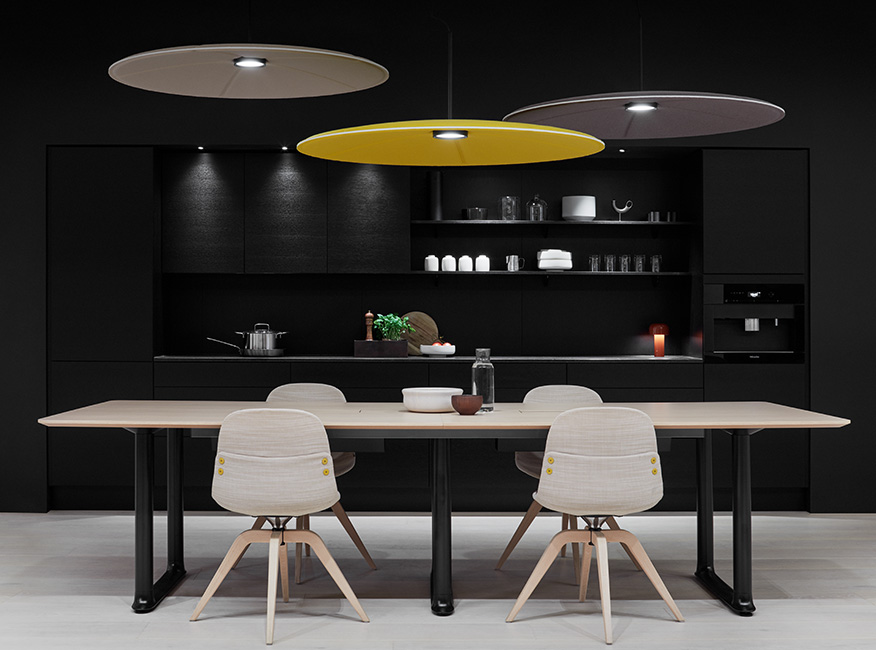 Lily
Design: Runa Klock & Hallgeir Homstvedt
Lily was named after the early prototypes, which looked like the petals of that very flower. Since then, the design has been simplified and the associations made more open. But the feeling that the acoustic lighting is floating on a cushion of air remains and brings an uncommon sense of stillness to the space.
Lily is available in two different sizes and is very easy to install in a group where lamps are installed on different levels.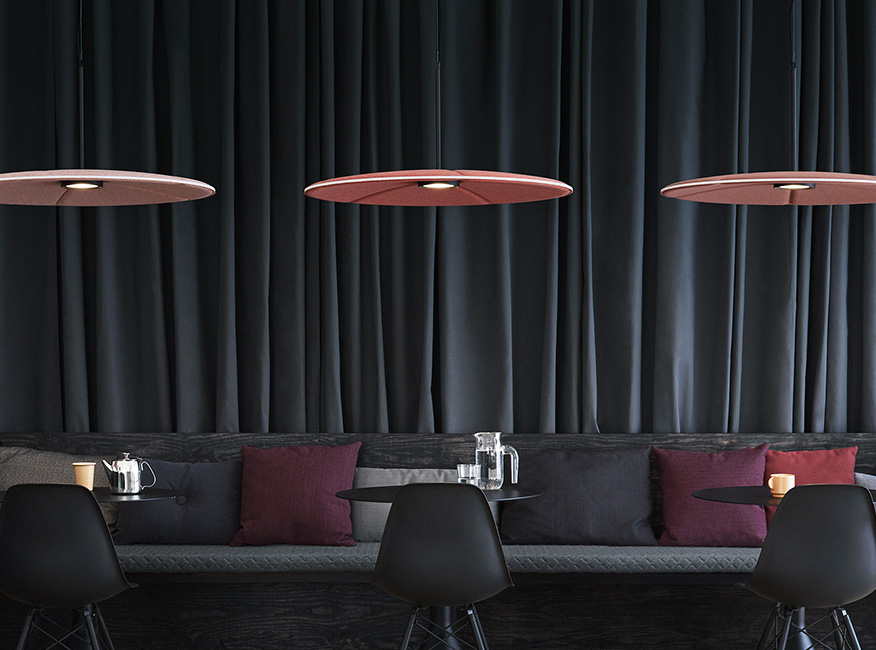 Lily helps create groupings in an interior, which makes it the perfect choice for a lounge, café, or restaurant environment.