Sustainability is a natural part of our business, and we are constantly evaluating how we can further reduce our climate footprint. Areas in which Abstracta can improve are always being mapped, and a clear timetable established for when, where, and how problems need to be resolved. But what are we doing in concrete terms?
The basis for our sustainability work is the UN Global Goals – the most ambitious sustainable development agenda ever devised. We have picked out five areas in which we can make the biggest difference.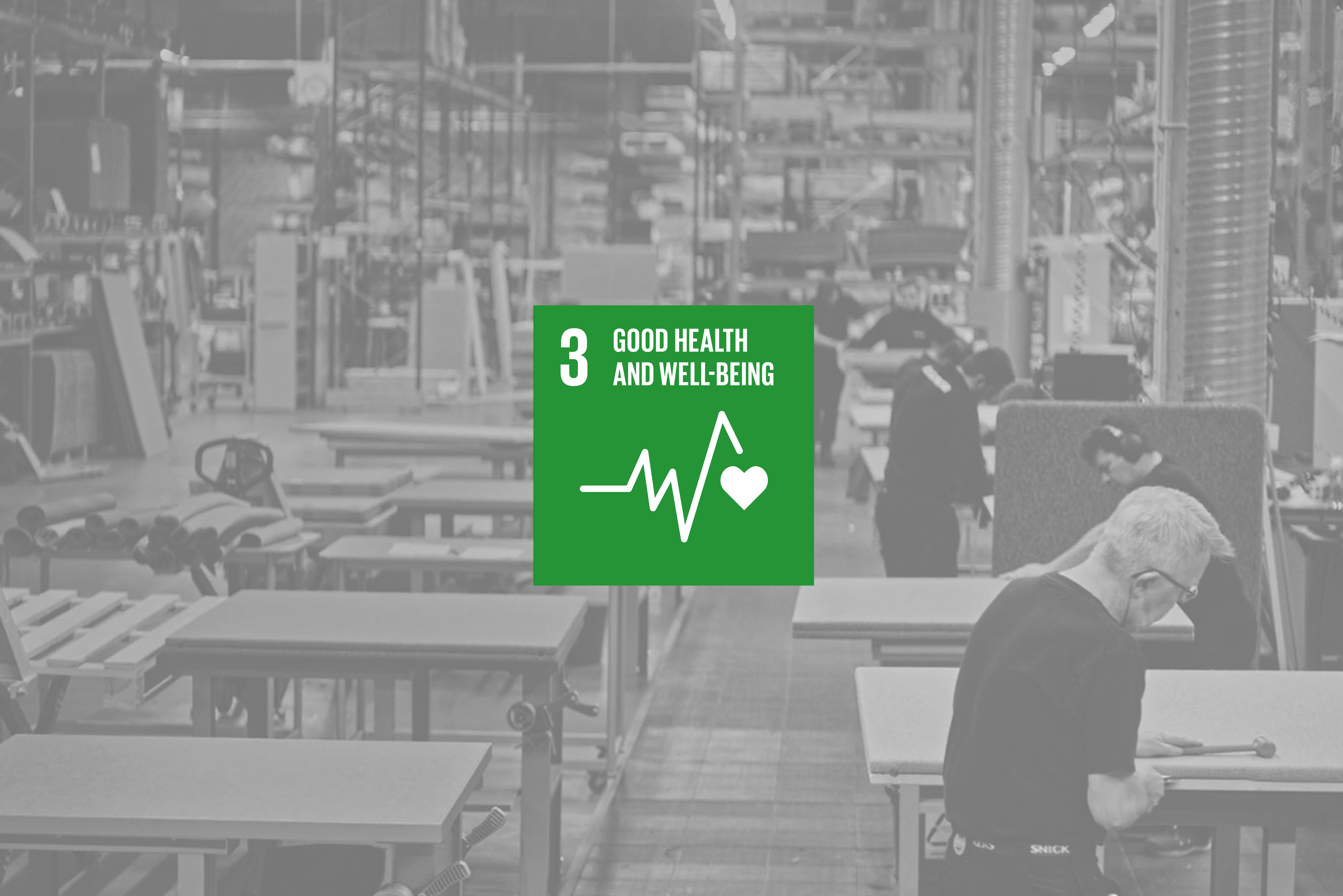 UN global goal 3 – Good Health and Well-being
Create a good and healthy acoustic landscape that contributes to increased job satisfaction, creativity, and increases well-being in workplaces. We live as we learn, and strive for the same in our own business. Abstracta works for health and well-being by:
✔ Evaluating and continually ensuring that all our employees feel good and enjoy coming to work. We conduct an employee survey every other year, enabling us to identify areas in which we can improve.
✔ Ensuring that no emissions that are hazardous to health are emitted from our factory
✔ Phasing out chemicals that are hazardous health from our production
✔ Continually evaluating the risks inherent in our processes and adhering to the "belt and braces" principle. No employee should risk injury when working!
✔ Looking around and working to impose the same requirements on our suppliers to create a chain reaction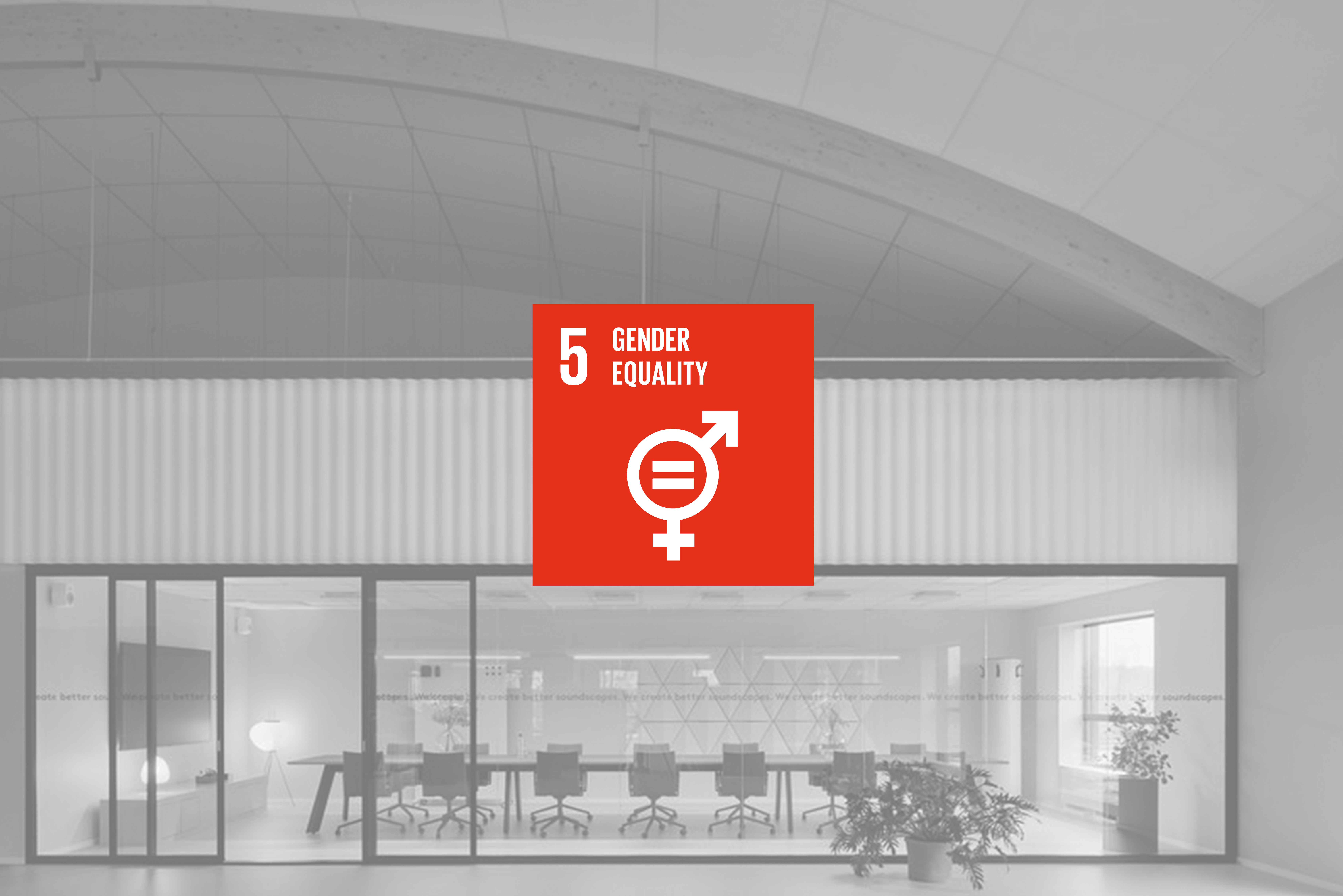 UN global goal 5 – Gender Equality
Diversity is enriching! For us at Abstracta, equality is a no-brainer and we have zero tolerance for discrimination in any form. We do not tolerate workplace bullying or harassment of any kind.
Working conditions, rights, wage structures, and opportunities for development must be dealt with on a level playing field. Recruitment processes must be carried out on the basis of skill and suitability for the post, and a skills and career development plan must always be in place. We ask the same of our subcontractors.
The Board of Directors of Lammhults Design Group currently consists of four women and two men.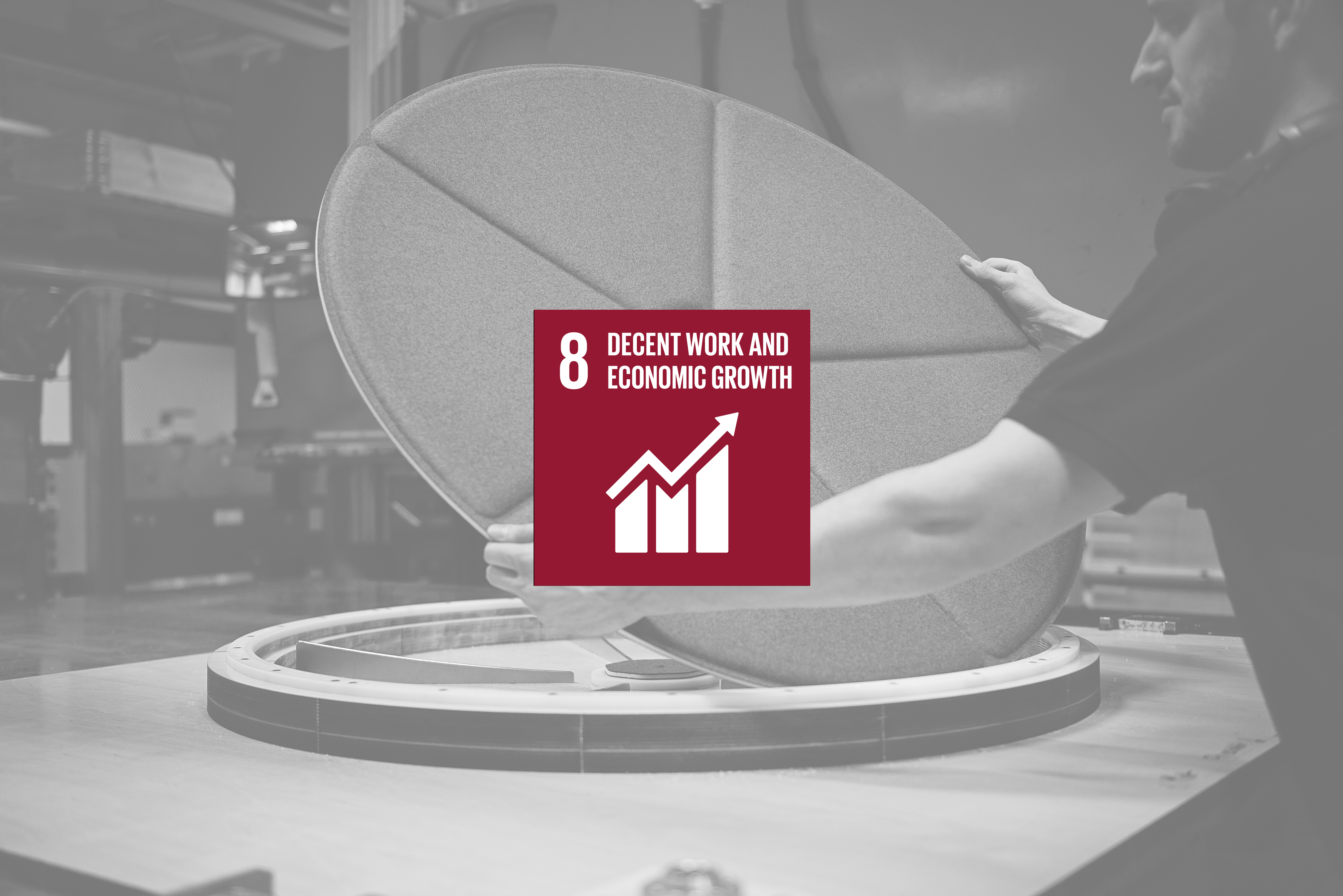 UN global goal 8 – Decent Work and Economic Growth
Abstracta is certified in accordance with ISO 45001 – an international health and safety management standard. The standard helps organisations with their systematic health and safety work, including requirements concerned with safety, psychosocial working environment, management involvement, and employee participation.
We provide a safe workplace and continually conduct risk analyses to identify injury risks. Our vision is to reduce the number of hazardous work duties in our factory to zero.
Systematic supplier assessments are conducted to identify suppliers that have adopted similarly stringent environmental goals as the ones we have set! By keeping the number of suppliers to our business to a minimum, we can impose stringent requirements. To this end, we have adopted a policy of having a pool of only 20 selected suppliers that generates 80% of our total procurement volume.
We believe in being good neighbours! Some 54% of our procurement is made from suppliers in Sweden, the majority of which are actually local to us in southern Sweden. Only 6% of our procurement is made from companies based in countries outside Europe.
Decent working conditions promote sustainable economic growth and are a positive driving force for society as a whole. By creating good criteria for innovation and entrepreneurship, as well as ensuring that everyone can enjoy decent working conditions, sustainable economic growth can be achieved in many areas.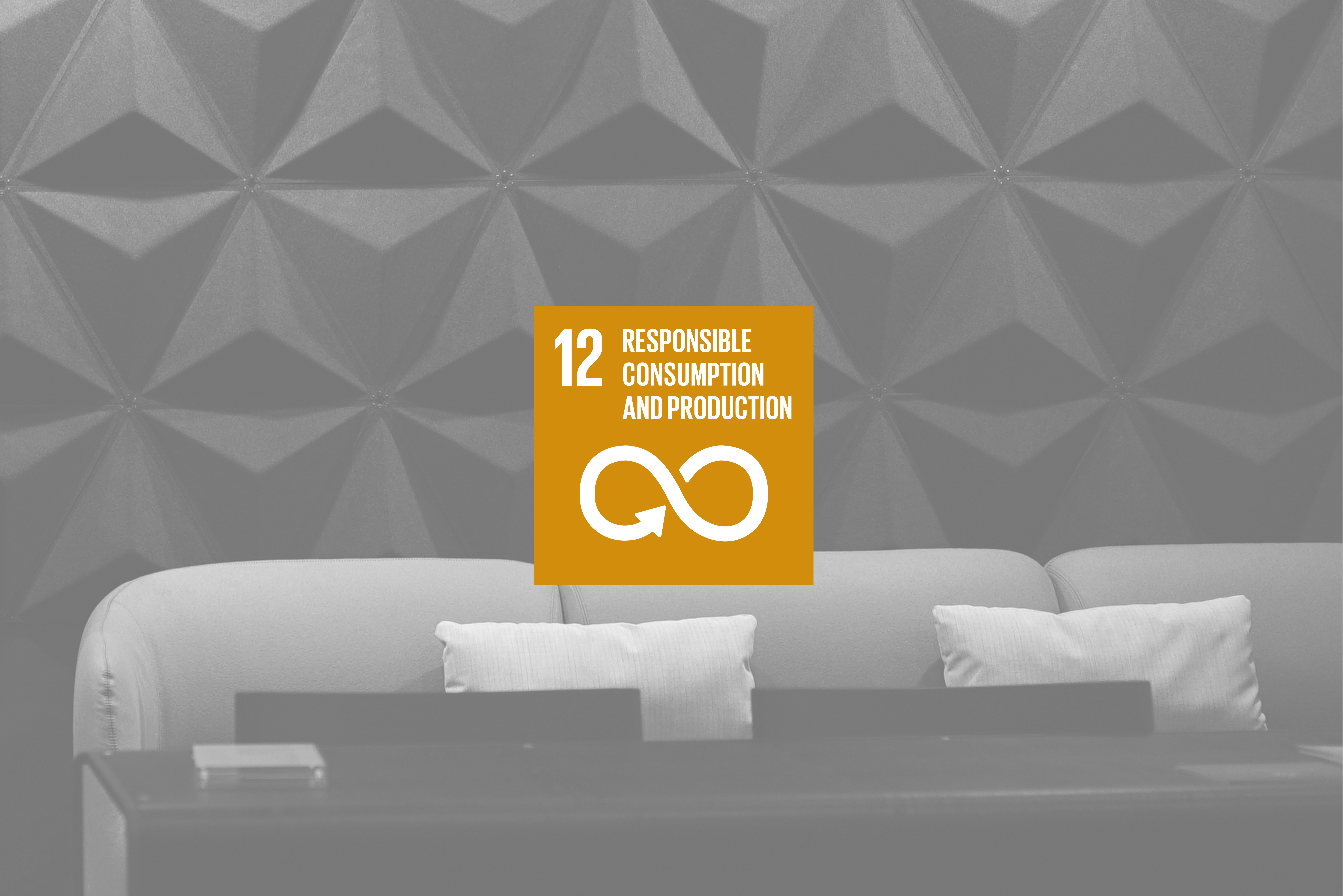 UN global goal 12 – Responsible Consumption and Production
We are proud to be quality certified in accordance with ISO 14001 and ISO 9001. These internationally accepted standards set out environmental and business management processes.
First and foremost, we believe in well-designed products that last! Products do not exist merely to solve a problem. We work with some of the most interesting contemporary designers to give our acoustic products a timeless feel. We only use the highest quality materials to ensure that our products have as long a service life as possible.
Abstracta works with a circular focus in all aspects of its business. For example, we increase the proportion of recycled material used in our products year after year.
We have provided a recycling service since 2020. Our customers can return their worn out Abstracta products to us, and we will re-use the products and components in the best possible way.
Our factory in Lammhult is powered 100% by electricity generated from renewable sources.
We continually monitor parts of our business that generate CO2 emissions (transport, production, raw materials processing, travel, etc.). Those parts of the business that we cannot currently do anything about are instead climate offset. This is done by actions such as financing various types of environmental project, or by offsetting emissions rights that we are not using.
Many of our products are upholstered, and the textiles industry is, on the whole, resource and energy-hungry. This is why we have decided to work exclusively with textile/fabric suppliers that work to stringent environmental objectives and have production facilities in Europe.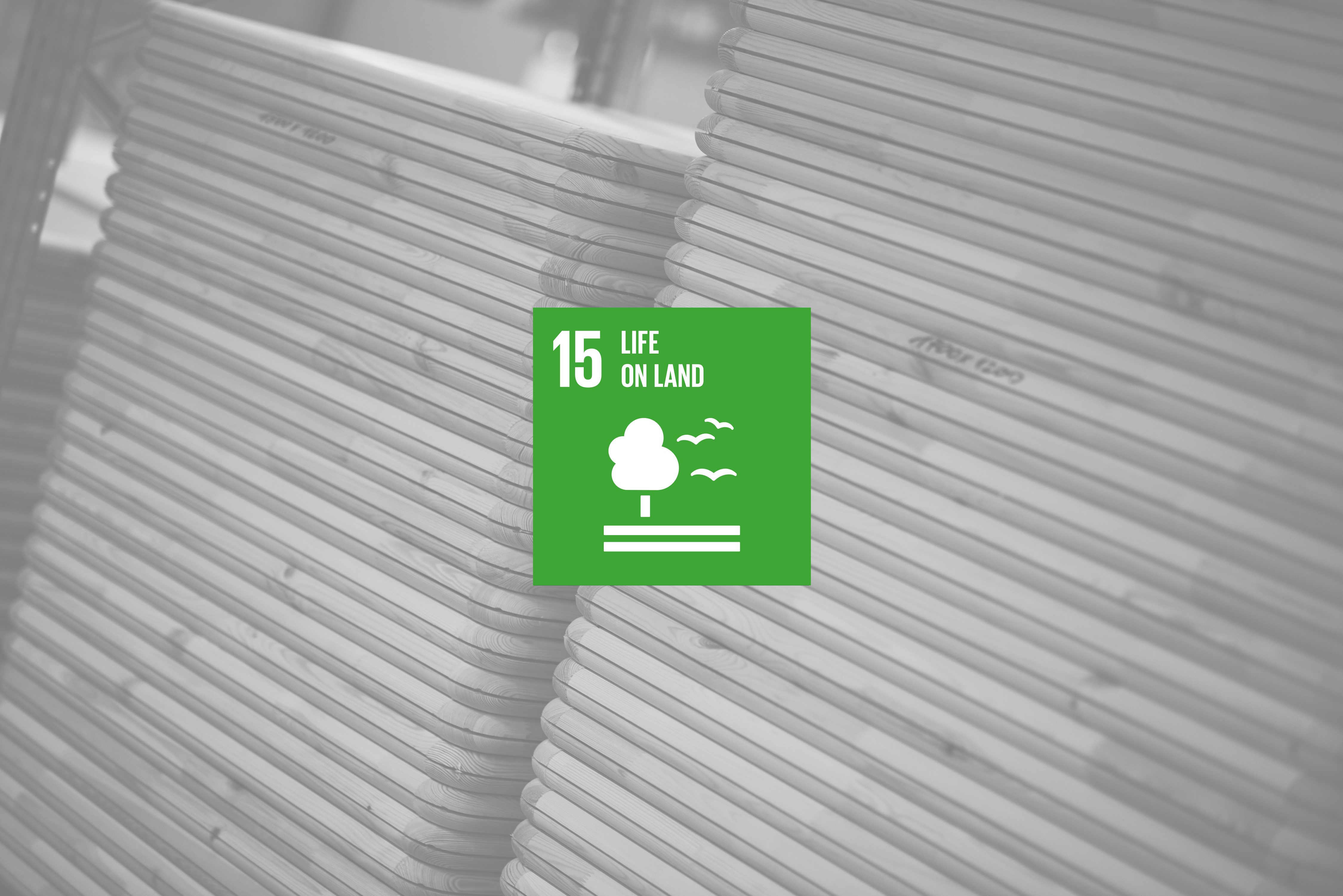 UN global goal 15 – Life on Land
You could say that wood is an intrinsic part of our DNA, particularly given the fact that our factory in Lammhult is surrounded by the elfin forests of Småland. We will soon have achieved this goal as all our timber raw material comes from sustainable forestry, i.e. only from suppliers that are certified. It is not impossible that, in the not too distant future, we will be certified ourselves.
We're investigating how we can further increase the proportion of naturally sound absorbing raw materials, e.g. flax, hemp, and cork, in our products.